Gbemisola Abudu's love for basketball came from being a spectator, not a player. As a young girl living in California, Gbemisola was forced to watch games over her favorite television show, 90210, because her older brother would take over the remote. It was then she witnessed the greatness of Kobe Bryant. It was a transformative moment. It wasn't just his skills and talent as a player; it was Bryant's focus and discipline that resonated with Abudu, the NBA Africa vice president and country head of NBA Nigeria, and the youngest and only woman of color to lead an office of the league. As an adult, Abudu would adopt that same determination and skill becoming a powerhouse marketer, building luxury brands around the world and even starting her own successful tech company. Her passion for basketball—and admiration of athletes—stayed with her, though when an opportunity to work at the NBA was presented to her, she hesitated, because she was satisfied with being a sports junkie and building her foundation. But something inside was pulling her in a different direction. She leaned on her faith and the answer was clear—she started to envision how she could use the NBA platform to make a greater impact and influence her native Nigeria on a larger scale. Gbemisola Abudu was named NBA Africa's Vice President and the Country Head in Nigeria, the goal was simple—to serve as the officiating minister to oversee the matrimony between culture and basketball in Nigeria and Africa. If you know anything about sports, especially one like basketball that so readily takes a backseat to football here in Nigeria, you would know just how challenging that could be. But Abudu is a woman on a mission, dribbling and slamming idea executions, one at a time.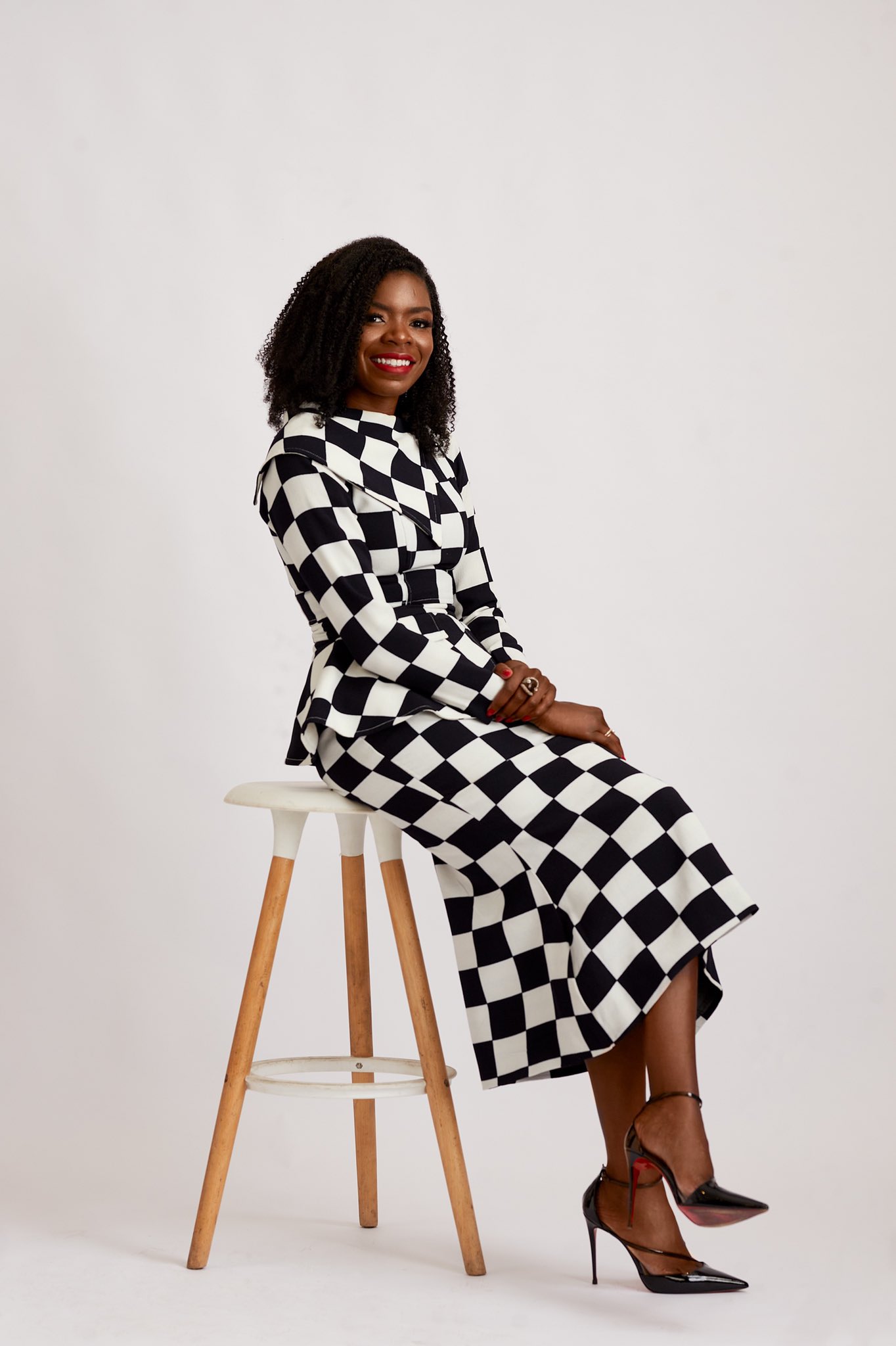 You were appointed NBA Africa Vice President and Country Head of NBA Nigeria. What was that like for you, considering you had worked with different brands in different industries?
This one was different! This is probably because I am a huge fan of the game and have a strong affinity for the NBA. My love for basketball and the NBA has been with me since secondary school. Interestingly, I never played the game, but I have been a huge spectator of the game for as long as I can remember. I am inspired by the dedication, discipline, and tenacity displayed by basketball players, notably the late Kobe Bryant. His mamba mentality made a significant impression on me growing up and greatly impacted my religiously following the game. Also, I have basketball to thank for a lot of incredible friendships I have. So, this one differed from every other job because it was deciding to work full-time on one of my passions and hobbies. In addition, what made it extra special was the opportunity to work for a great brand like the NBA at home and utilise the platform to empower our youth and showcase our excellence. Another reason this was special is over the years, I have had the privilege to watch the growth and influence of the game due to the incredible foundation laid by many over the years. We are where we are today in Nigeria because of their work and contributions. It felt like the baton had been passed on to me to build on what they had built. Now that I have the baton, it is my responsibility to run my part of this race to the best of my ability and create something sustainable that will stand the test of time.
Now, to your accolades, so to speak, it's been a year, and in such a short amount of time, you've managed to do a couple of things; let's talk about them. You created a partnership with Hennessey, and there was a floating basketball court. What conceived that idea? I don't think it's ever been done in Nigeria.
I can't take credit for that. I am someone who always ascribes credit where it's due. The floating court was already in the works when I came on board. It was the first project I worked on with the team, but much of the heavy lifting was done before I came on board. Regarding Hennessy, we have a global partnership with them which extends to our engagement with their brand in Nigeria. The floating court was part of one of our joint initiatives called the Court Beyond Limits series. The series was designed to honour the NBA's 75th Anniversary Season, where first-of-their-kind basketball courts were unveiled in unique locations globally. For Nigeria, we unveiled a floating basketball court by the Lekki-Ikoyi bridge. It was the first in Africa and has since been replicated in other parts of the world.
So, let's talk about the other things that you've been able to achieve. I know you've taken a couple of people out of the country and entered many partnerships with celebrities. Let's talk about the different ones that you've done.
Although the NBA is an established brand, the reality is that it's a new brand being introduced into the market in Nigeria. That means we had to go through the typical market entry process and put all the building blocks required to build a brand. We couldn't cheat the process. We spent a significant part of last year putting all the right foundational building blocks in place to enable us to build a profitable and sustainable business in Nigeria. From assembling the right team to finding the right agencies to work with to determining the right partners, these are crucial elements that have given us a suitable springboard for success. In addition, we had to understand the Nigerian market through the lens of the NBA and determine the right approach and positioning of the brand with our fanbase. Once we had all of that in place, coupled with the right team, we created a great runway for success. As you know, Nigeria is one of Africa's leading purveyors of culture. From art to fashion to music and film, we are known for our vibrant culture, rich heritage, and excellence. We quickly determined that we wanted to lean into the culture as we positioned the brand and found creative ways to infuse all the attractive elements of culture into the brand in Nigeria. In the United States, the NBA sets trends when it comes to fashion, music, art, etc. This is part of the NBA's DNA, which has made it an easy integration for us in Nigeria. However, we had to determine a seamless way to do it. This is why we launched the NBA meets Culture platform last year, which started with the NBA Meets Art event (an event designed to celebrate art through the lens of the NBA) that took place in November last year during art week. It was a huge success for us! We intend to follow that with the other pillars of culture: Fashion, Film, Music, and Tech. Let's take fashion for example. The tunnel (when NBA players arrive at arenas and walk into their locker rooms) has turned into a major fashion runway, turning basketball stars into luxury, most valued players to showcase their collections. People care about their kicks, accessories, clothing, etc. All these pillars of culture give us an incredible opportunity to engage with our fans and the community in ways unique to our brand and Nigeria. We work with brands, celebrities, and influencers who align with our core values and have an affinity for our brand. Co-branding with brands and influencers is part of our strategy in the market, and you will see more of that in the coming months. A good example was for the NBA All-Star weekend, which we just concluded in Salt Lake City. We invited the musician, Ladipoe and actor Tobi Bakre to showcase their experience to our fans through their lens.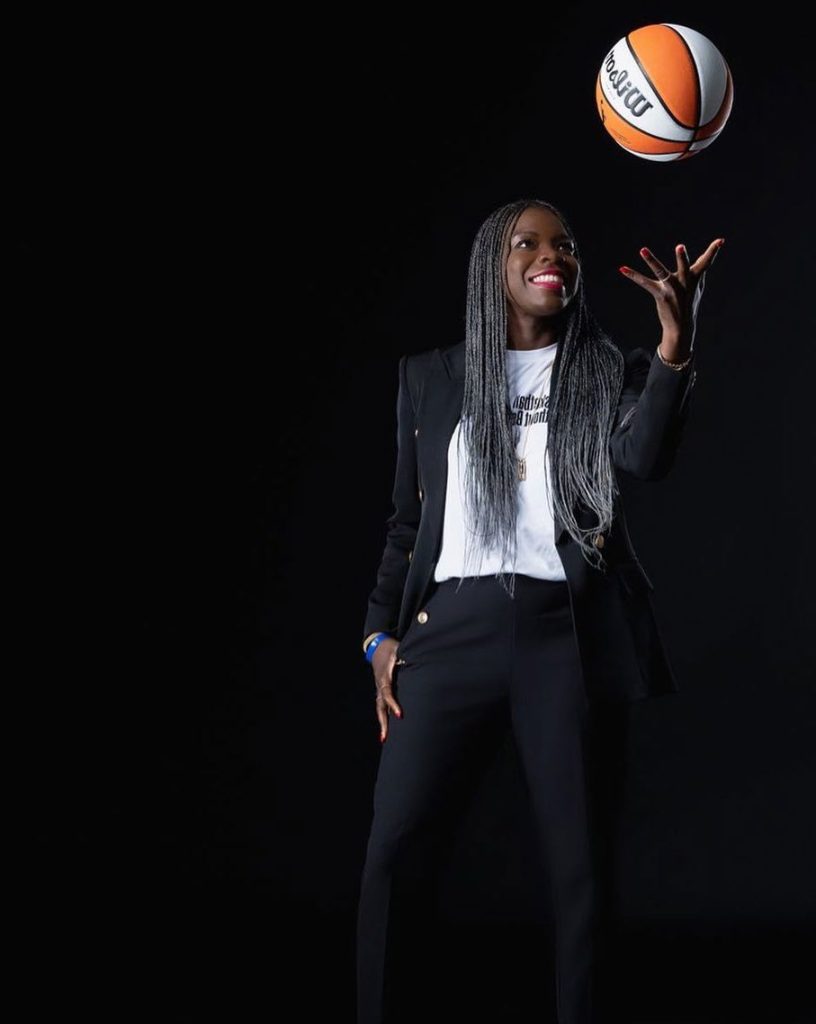 Let's back up a little and talk a bit more about the history of the NBA in Africa and Nigeria. Then, let's include that in our previous conversation about culture. I am curious whether you think we will have a spectacular Nigerian basketballer, mainly home-grown, home-trained, and home-based, who, like Michael Jordan, will have a fashion line courtesy NBA through your tenure?
Hmmm… that's a good question. I will start with the first part of the question. When we talk about NBA in Africa, it goes back to 1959 when Bill Russell travelled to Libya and Ethiopia when the decolonisation movement was spreading through Africa. But when we talk about the physical manifestation, we look at 1984 when Hakeem Olajuwon was drafted into the NBA. Since then, we've had many players of Nigerian parentage (one of their parents is from Nigeria) play in the NBA. In the history of the NBA, we've had more than 120 players of African heritage, with more than half of them being of Nigerian descent, and that tells you what Nigeria represents to the NBA. In 2010, the NBA opened its first office in Africa in Johannesburg, South Africa, and has since opened three other offices, with the latest being in Egypt. Under the leadership of Adam Silver, the Commissioner of the NBA, and Mark Tatum, the Deputy Commissioner and COO of the NBA, Africa has become a significant priority in the NBA's international growth plan, which has had a tremendous positive impact on the work we do. This was a catalyst for the launch of the Basketball Africa League (BAL) three years ago. The BAL is the NBA's first league outside of North America. It's an elite professional league in collaboration with FIBA. This means that for those who want to go to the United States to play for the NBA, that opportunity is there. However, the BAL has created an avenue for elite players wishing to remain on the continent. I am happy to say that Nigeria will be represented in Season 3 by the Kwara Falcons, which tips off in Dakar, Senegal, on Saturday, 11 March 2023. To answer the second part of your question, I believe the answer is yes. I think it's inevitable with our work in Nigeria and on the continent. Part of our work is to help facilitate a sustainable ecosystem that we know will catalyse a viable basketball economy (businesses generated through association with basketball). Furthermore, as we work to create an adequately defined pathway that makes it easier for the youth in Nigeria to play basketball from a young age to the elite level, we believe this will further unlock many opportunities in the basketball industry for them.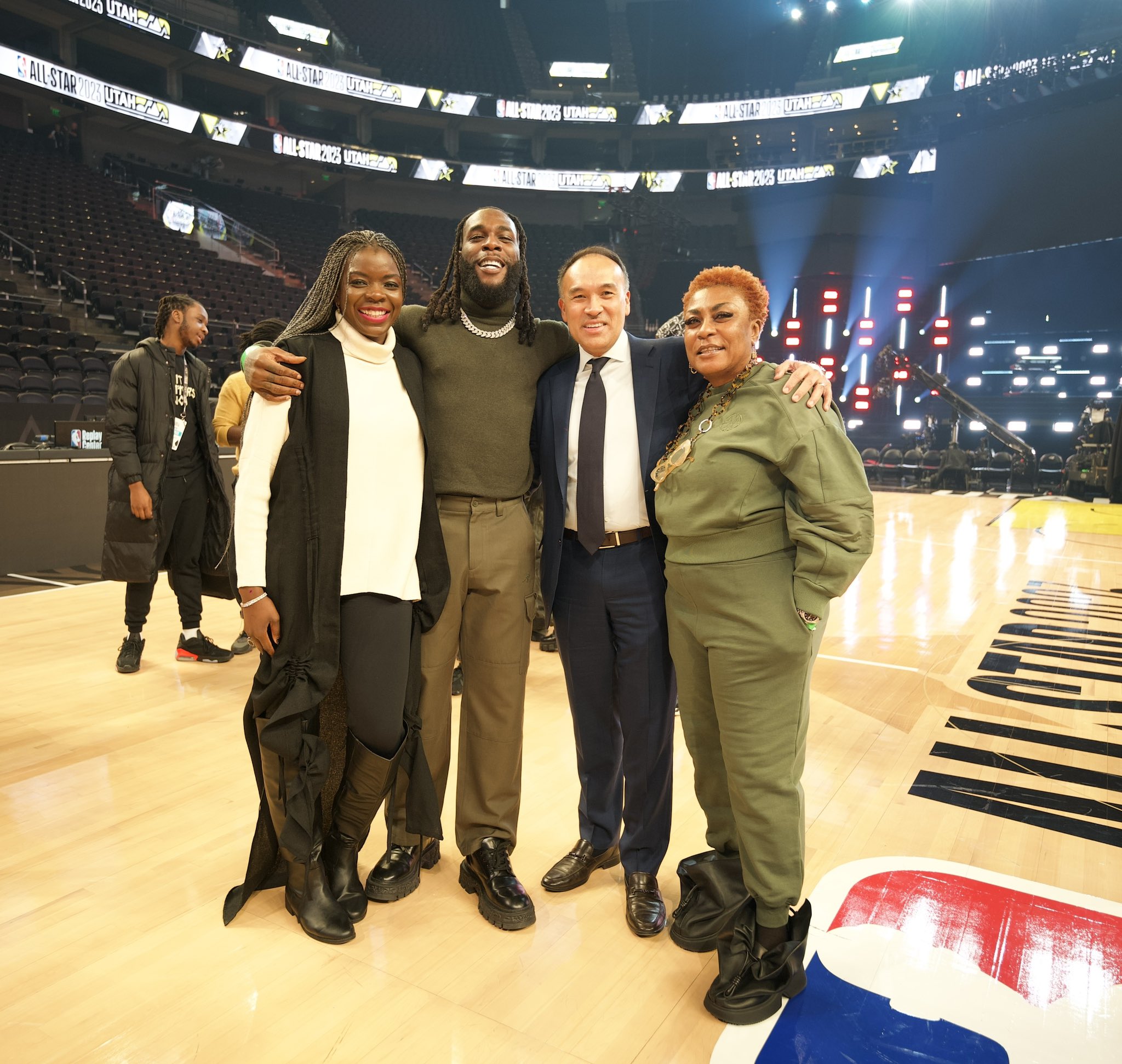 My point is that we are facilitating interest from all angles and change within the ecosystem in Nigeria. And it will have a domino effect whether it's our work influencing fashion, music, art, or film. As we ingrained elements of culture into the positioning of the brand, I believe this is inevitable. So, the idea of a basketball player being home-grown, coming out of Nigeria, and as a result, having a fashion line and, or endorsements will happen in the long run. Will it be directly traced to my tenure? I honestly don't think of things that way. For me, whatever work I do, I focus on doing the best possible work and ensure that my work is a catalyst that makes it possible for other things to happen. So, whether in the long run, development is directly traced to the work we do now or after, I think it's irrelevant. I am focused on the goals we have set before us for NBA Nigeria. How do we ensure that whatever we are building is sustainable? How do we make sure we are impacting lives? How do we reach as many young boys and girls as possible in Nigeria? How do we utilise our platforms as a tool for nationbuilding? How do we ensure that we are focused on talent identification and that our youth get the opportunity to maximise their potential? How do we ensure that more people have easy access to NBA and the BAL games? How do we bring more NBA experiences to Nigeria for our fans to experience? How do we bring the game closer to our fans? How do we increase the affinity of the brand? All of that is what matters to me, and I genuinely believe that all of those are achievable as we focus on what matters and the work at hand. Apart from the obvious industries and pillars we've identified, I genuinely believe that as we progress in the work we are doing in Nigeria, we will impact and touch on additional areas and industries.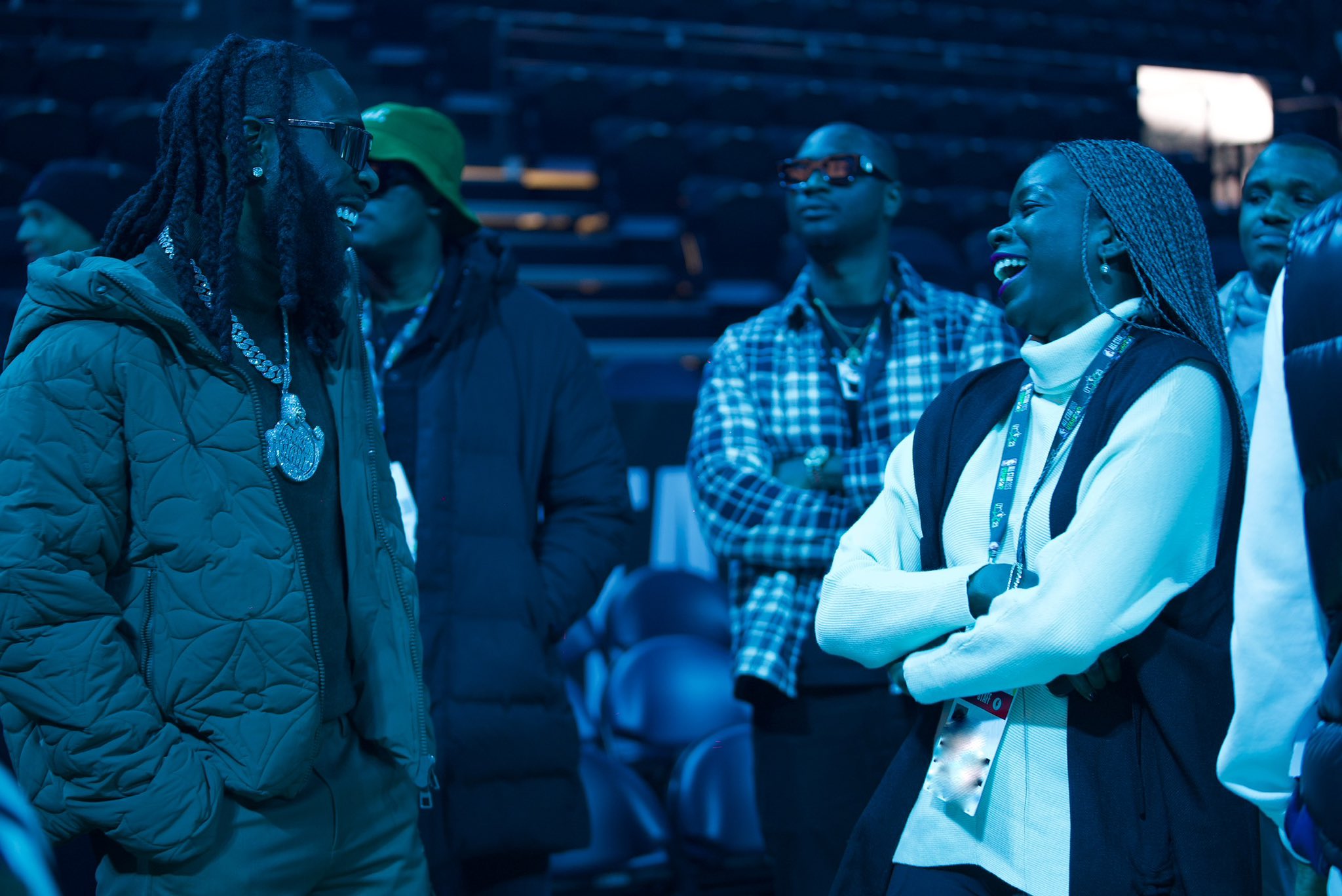 "I just saw this dynamic person," Abudu says. "There were so many things that made me connect with him. He was this young guy who had come from high school. He just had this confidence, this assurance of who he is and who is destined to be. Kobe Bryant was it for me." "It was God basically saying, I am telling you to do this, I want you to be a part of this," Abudu says. "Who's the better person to take the baton and run that part of the race, to bring all your experiences from building businesses, from working in the luxury industry, bringing all of that together, to build this brand that I love so dearly and a game that has given me so much. One of the best ways to influence people is to influence them at a very young age. And that's why I'm here today." "There's a huge following of basketball in Nigeria," Abudu says. "We want more young boys and girls in Nigeria playing basketball. We're aware that not all of them will make it to the NBA, but there are so many life skills that the sport teaches that we want kids to be equipped with that at a very young age."