From a Dutch outpost to the urban playground, Governors Island has had many lives. Now, it's pioneering a zero-waste concept that could show other cities how to develop more sustainably. There's a moment set out on the ferry from Manhattan's South Street to Governors Island when the receding skyline is all-consuming. Towering skyscrapers of glass, steel, and concrete loom above the slate-colored harbor. Then, just eight minutes later, you arrive at your destination, a 172-acre island a mere 800 yards away from the US' biggest metropolis, and the city slips from your mind. A 19th-Century red sandstone fort and a sleek outdoor oyster bar welcome you to Governors Island, nodding to its past role as a military stronghold and present incarnation as an urban playground. Once home to the Lenape Native Americans, Governors Island was called Paggank, or "Nut Island", owing to its abundance of chestnut, hickory, and oak trees. One hundred years later, when the Dutch arrived, they established the first settlement of their New Amsterdam colony here, making this now-uninhabited harbor island the birthplace of New York City. Today, Governors Island (which is technically part of Manhattan) might just be New York City's best-kept secret.
Read Also: Neuroscientist Answers Illusion Questions From Twitter
The leafy oasis is home to seven miles of bike paths; an acre-sized urban farm; sprawling meadows and gardens; slides measuring three stories tall; autumn pumpkin patches; a winter ice-skating rink; and all manner of picnic spots, playgrounds, and art installations. The island is now pioneering an inspiring zero-waste concept that could show other cities how to become more sustainable. This week, Mayor Eric Adams announced that the island would now be the site of a $700m "living laboratory" dedicated to finding solutions to address the climate crisis.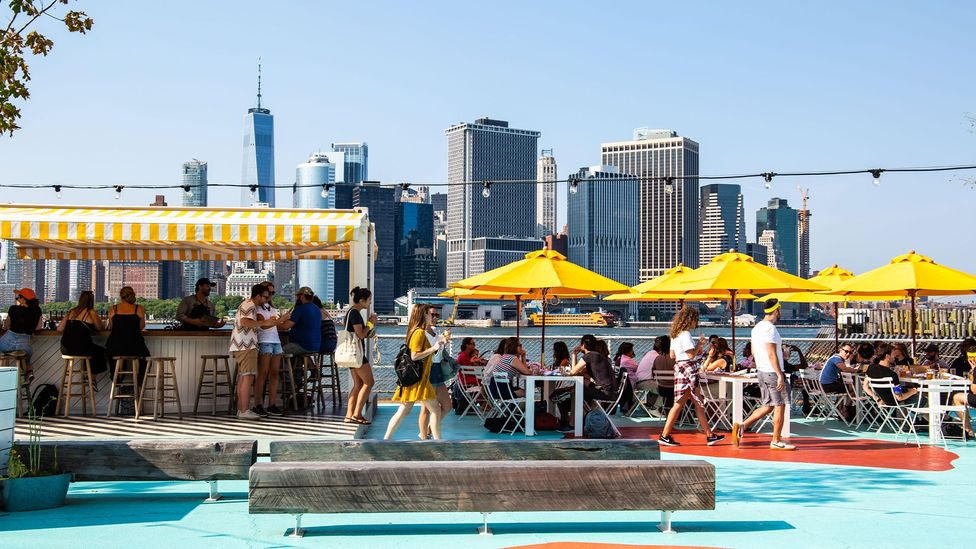 "The park design and concept really centers [on] sustainability and resiliency," said Clare Newman, president, and CEO of the Trust for Governors Island, which manages the island along with the National Park Service. Though Governors Island was originally 72 acres, another 100 were added in the early 1900s using dirt excavated when the city dug the Lexington Avenue subway station in Manhattan, more than doubling its size to the south. In 2007, this largely undeveloped southern part of the island was reimagined as more than just recreational space, with the Trust seeing it as an opportunity "to demonstrate to the whole city, and hopefully to the world, how we can develop urban environments in a much more sustainable and adaptable way". This eco-initiative is the latest chapter in Governors Island's fascinating history.
The English arrived in New York in 1664, capturing the island from the Dutch. Eleven years after British troops withdrew at the end of the American Revolution in 1783, the New York government started fortifying the harbor by constructing three forts on the Island – Fort Jay, Castle Williams, and the South Battery – that helped deter a British invasion in the War of 1812. Under the control of the US government, the island became a military base, a quarantine station for religious refugees, a prison for Confederate soldiers during the US Civil War, an army headquarters through World War Two, and finally a Coast Guard base until 1996. The Island was then left largely abandoned for nearly a decade while the federal government debated what to do with the land. Governors Island also bore witness to many historic moments. In 1919, Wilbur Wright took off from a landing strip on the southern part of the island on the first American flight over water. Composer Burt Bacharach regularly performed at The Officer's Club on the island in the early 1950s. President Ronald Regan hosted Mikhail Gorbachev in the 19th-Century Admiral's House mansion in 1988. In 2001, the island was designated a National Monument, and two years later, it was sold to the city and state of New York for $1. Finally, in 2005, it opened to the public.
The open bucolic space, so close to the dense city, has turned Governors Island into a cultural and recreational destination. Liggett Terrace, just south of what was once the country's largest military building, is now home to a seasonal line-up of food trucks and vendors, featuring options from East Asian fried chicken to vegan soul food to pizza. In 2018, Collective Governors Island set up 36 private glamping tents with views of the Statue of Liberty. Last year, QC NY Spa opened, allowing guests to chill on an infrared bed, in a sauna or steam room, or at the outdoor spa pool with views of helicopters descending into the Financial District and ferries crossing the harbor. When each of these vendors or businesses open on the island, they commit to the Zero Waste Island initiative, signing an agreement that details, among other things, what materials are permitted and not. All food partners are required to use compostable service ware, for example, which Newman said "makes a big difference" towards the island reaching its zero-waste goal.
The not-for-profit organization Earth Matter NY is the Trust's partner in Zero Waste Island, picking up all organic waste – including the compostable service ware and food scraps along with landscape materials from the grounds crews – and turning it into compost for the island's gardens. Paper, glass, plastic, aluminum, and regular rubbish are placed in other bins and processed separately. "We came to the island with the idea of recycling and creating this closed loop," explained Earth Matter NY's co-founder and executive director, Marisa DeDominicis. "Zero Waste Island is really what we're about." Last year, Earth Matter NY collected more than 260,000 lbs of organic waste – a 28% annual increase from 2021.