Everywhere you look at Santorini, you're reminded that you're on a volcano. The lunar landscapes, the black and red beaches, and the pebbles made of solidified lava. The Greek island's transfixing beauty is a result of the area's violent volcanic history. Santorini is of course famous for its breathtaking crescent-shaped caldera, half of which is submerged – making it the only sunken caldera in the world. It was created by one of the largest known eruptions around 3,600 years ago. The explosion was so powerful that it wrecked Santorini's ancient city of Akrotiri and dealt a fatal blow to the seafaring Minoan civilization, which had settled on the island at the time. Today, Santorini – also known as Thira – is Greece's foremost romantic playground with luxurious villas and resorts providing pampered getaways for A-listers and dreamlike settings for lavish weddings and photoshoots alike. The island's steep volcanic cliffs, perched about 1,000 feet above sea level, create an impressive geological canvas with whitewashed houses balanced on the edge. No wonder it's one of the most photographed locations on the planet.
Read Also:
Every evening, the island comes to a grinding halt for Santorini's world-famous sunsets. The blue and white domed village of Oia gets packed as the golden hour draws in. As the sun begins to set behind the caldera's cliffs, the sky transforms into a vivid display of red, orange, and pink hues. Thousands gasp as the last rays disappear in the sea. Few realize that beneath the hypnotic kaleidoscope of colors lies an active volcano.
Secrets of the deep
Santorini is part of the Hellenic Volcanic Arc, one of the most important volcanic fields in Europe which has seen over 100 eruptions over the past 400,000 years. The East Mediterranean's most active underwater, and potentially dangerous, volcano, Kolumbo, is five miles northeast of Santorini and part of the same volcanic system. Submerged in the Aegean Sea, Kolumbo has been quiet for nearly 400 years – but it is not asleep. The last time it erupted, was in 1650, it killed 70 people and triggered a 40-foot tsunami. Strong earthquakes and aftershocks were recorded, along with toxic gas and plumes of smoke. Scientists know Kolumbo exploding could cause great havoc. Some of the world's biggest oceanographical expeditions have paid it a visit and monitoring has increased in the last 20 years. One of the largest US research vessels, the JOIDES Resolution deep drilling ship, traveled to Santorini for its first Mediterranean mission between December 2022 and February 2023.
The formidable ship brought "an entire floating lab to the area," says volcanologist and expedition co-chief Tim Druitt. Able to drill at over 8,000 meters (26,000 feet) beneath the surface of the sea, researchers collected previously unreached sediments to try and reconstruct the history of volcanism in the area. The results – initial reports are expected later this year – should help scientists not only predict future eruptions but also to reveal the behavior of other active volcanoes around the world that pose a threat to millions who live in their vicinity. The links between earthquakes and volcanoes are also being studied.
Evi Nomikou, a geological oceanographer at the University of Athens, has taken part in every expedition on her native Santorini for the last 20 years. "We are gradually putting together a puzzle [showing] which parts were [originally] land, which parts were water," she says. "If we can better understand past eruptions and their impact, we have a roadmap to better address future challenges."
A simmering volcano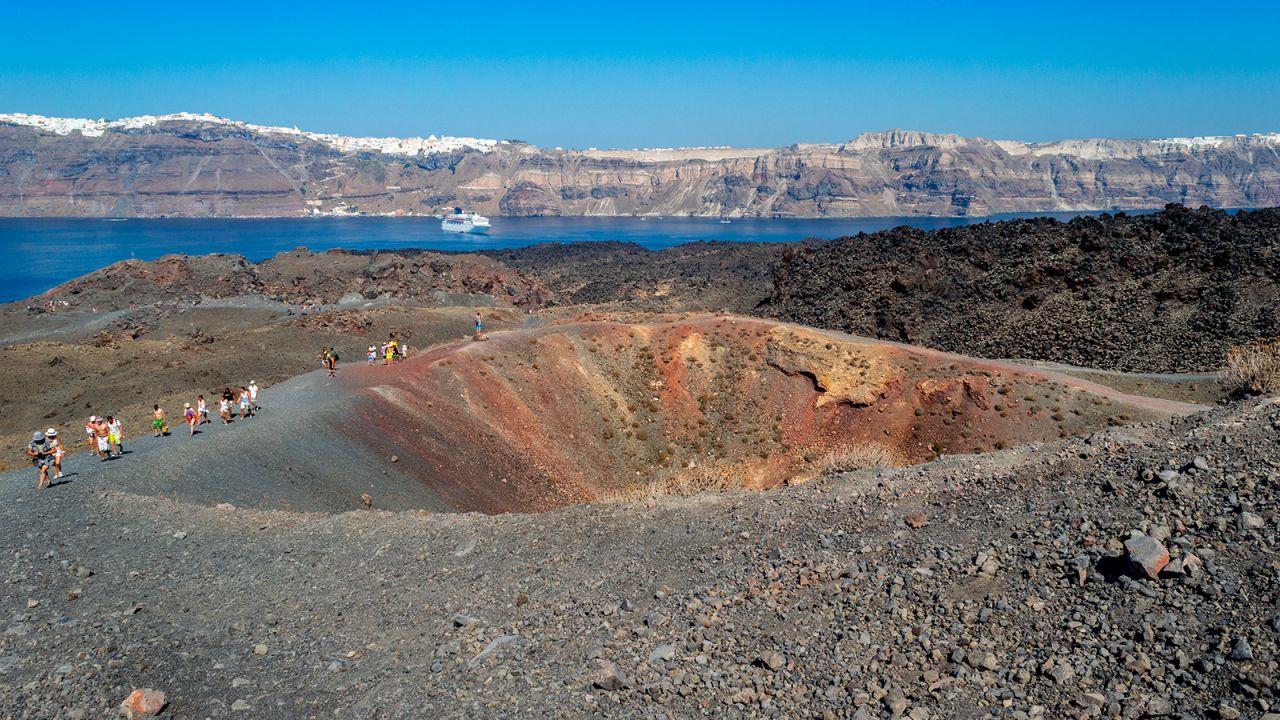 Thanks to its global fame, Santorini has seen some of the biggest tourism investments in the country. Hilton and Nobu are among the brands to have arrived on the island in the past few years, and property prices are among the highest in Greece. Yet geologists – who are closely monitoring Kolumbo – warn that it's just a matter of time before a big eruption hits again. However, "time" in geology years can be ultra-slow. So much so that one real estate agent on the island, who declined to be named, says that "volcanic activity never enters the conversation" when selling a property. When it does erupt, Kolumbo is capable of producing an eruption column tens of miles high and is also liable to trigger a tsunami. Increased activity about 10 years ago raised concerns but it has since subsided. "If we start seeing increased activity in Kolumbo then we need to be alert, says Druitt. "The good news is that volcanoes do give plenty of warning." Meanwhile, in 2020, Greece's Civil Protection Agency unveiled a 185-page plan for addressing the consequences of a possible activation of Santorini's volcanic group.