Launched in January 2022, Brazil's new Digital Nomad Visa is enticing a new type of traveller to the South American country. And Rio is one of the most alluring spots to settle. Rio de Janeiro, a colourful urban sprawl divided by forest-covered mountains and edged by golden coastlines, has long seduced international tourists with its samba-fuelled nights and spectacular landscapes. Now, the "Marvellous City", as it's known by Brazilians, is enticing a new type of traveller with its Digital Nomad Visa, which was launched across the country last year. The local government has been pushing ahead with investments to make the city increasingly suitable for remote workers, including improving connectivity with citywide 5G coverage.
Read Also: Facebook work filtering posts 'cost me my humanity'
An emerging coffeehouse scene also brings new working spots and a digital nomad vibe to Rio's popular beachside areas, with modern cafes equipped with fast internet, contemporary brunch options and a variety of decent coffee. But it's not all about the grind. Rio-born Cariocas cherish playing sports, being in nature and socialising after working hours, and it's this work-life balance that makes Rio so appealing to digital nomads over other Brazilian cities. "Unlike São Paulo, Brasília and Belo Horizonte, Rio has both big-city amenities and amazing beaches, hiking and other outdoor attractions," said Janeesa Hollingshead, a North American digital nomad who has been living in Rio for a year.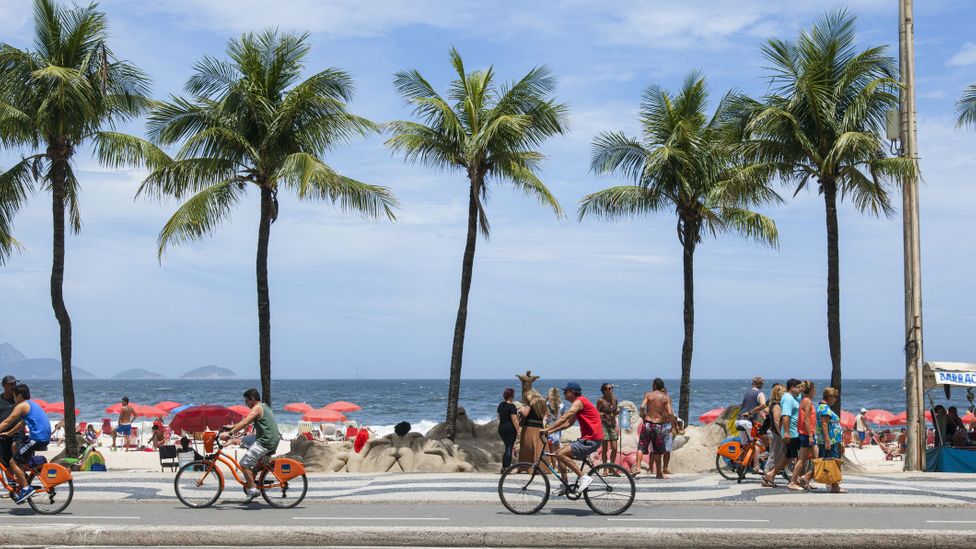 Why should I go now?
Getting residency in Brazil was once shrouded in red tape, but the Digital Nomad Visa has made the process easier. It enables visitors to keep their current employment in another country while allowing stays of one year, with the option of renewing for another 12 months. Applicants must provide proof of work and earn at least US$1,500 (£1,200) per month or have US$18,000 (£14,400) in savings. Remote workers in Rio also have the benefit of a thriving digital nomad community, said Hollingshead. Highly active social media and WhatsApp groups allow visitors to find an assortment of in-person meetups, from samba nights and hiking expeditions to business networking and language exchanges. These online hubs are also valuable resources for finding out information about visas, taxes and other general day-to-day life in Rio.
We [foreigners] get treated well here – locals want to help you. That makes you feel good about where you live
The international community is also supported by welcoming and friendly locals. "We [foreigners] get treated well here – locals want to help you. That makes you feel good about where you live," said Dan Hobbs, the Australian owner of Aussie Coffee in the beachside neighbourhood of Ipanema.
Working amenities
Traditional bakeries designed for in-and-out strong espressos and quick bites remain prolific. But remote workers can also find several coffeehouses dotted throughout Rio's affluent South Zone (Zone Sul) that offer air conditioning and high-speed internets, such as Café Cultura and Mini Joe in Copacabana and Aussie Coffee in Ipanema. "There are free Wi-Fi spots you can easily find and laptop friendly," said Emily Anctil, a multilingual advisor specialist from Canada who worked remotely in Rio for six weeks.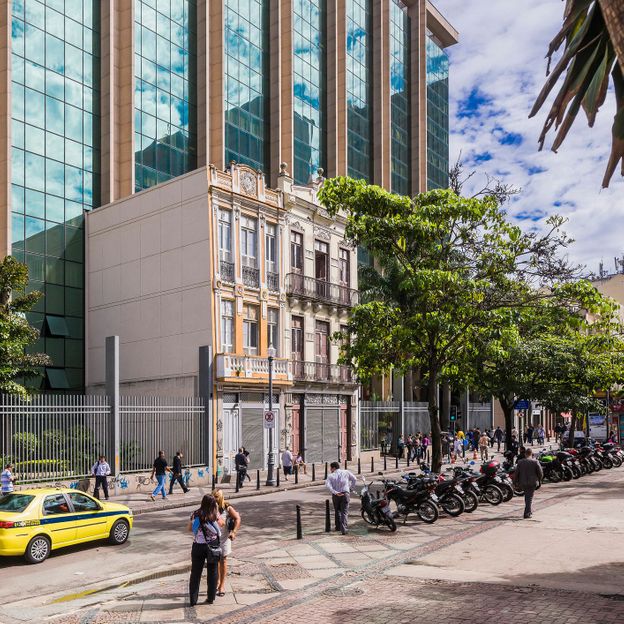 Many of Rio's coworking spaces are in the business block of downtown Centro, which is a bustling hive during weekday working hours but largely deserted in the evenings and weekends. Coworking spaces in Rio's city centre often appeal to corporate individuals looking for quiet places to make calls, whereas coffee shops reel in digital nomads seeking a more laid-back community, Hobbs explained. "We get digital nomads every single day [in Aussie Coffee] because they feel comfortable working here," he said. "A lot of foreigners come to Rio by themselves. They might have friends, but they seek the community that they can find here."
Living in Rio
Rio is one of Brazil's most expensive cities, but it's still affordable compared to European and American metropolises, especially with the current exchange rates. "You get a lot of value for your money in Brazil, especially if you have euros and dollars," said Jack Krier, YouTuber and content creator from Luxembourg who worked remotely in Brazil for two months. "Rio is a bit more expensive than São Paulo, but still, compared to Western prices, it's just really good value."
You get a lot of value for your money in Brazil, especially if you have euros and dollars
It means prime locations, such as the beachside neighbourhoods of Leblon, Ipanema and Copacabana, become much more accessible. "I could never live on the beach in Australia, as I do here. And [Ipanema] is one of the best beaches in the world," said Hobbs. Inland neighbourhoods such as Flamengo, Botafogo and Catete are cheaper options that are still located near beaches, hikes and vibrant nightlife. For Hollingshead, Botafogo is her favourite place to live. "It's super walkable, has a ton of restaurants and bars, is within walking distance to two different shopping malls (each with good coworking spots) and feels much less touristy and crowded than Copacabana. You can also get much more space for better prices," she said.
Work-life balance
Enjoying the outdoors is the essence of Rio, whether that's running along Copacabana's black-and-white promenade, surfing the gentle waves of Ipanema or sitting outside a bar for cold beers and a samba. "The outdoor lifestyle is of great importance to the city," said Alessandra Alli, a Brazilian tour guide and founder of Hike in Rio. The beaches, forest hikes and numerous alfresco drinking spots are all on the doorstep of anyone who lives in the South Zone, making it easy to slip into a fun activity once the laptop has been closed for the day. There are many free and affordable outdoor activities available, including free beach gyms in Ipanema as well as free daily yoga, spinning classes on the beach and HIIT sessions on the Mude app, which anyone can sign up to.
Keen hikers can enjoy miles of trails through the Atlantic Forest, one of the world's most biodiverse biomes, that surrounds the city and caters to all tastes with attractions including deep caves, refreshing waterfalls and breathtaking viewpoints. "That's why [Rio's] trails are unique," said Alli. "[Rio] has trails for all ages, all levels of difficulty and different distances." For those more interested in sinking into cultural activities after a day's work, there's no shortage of live music, street markets and weekend gastronomic events. "The culture in Rio has so many layers. There's so much depth and colour in it," Hobbs said.
It's hard to get any work done in Rio because there's just so much happening
It's a contagious way of life and requires willpower to ensure you keep working, said Krier. "It's hard to get any work done in Rio because there's just so much happening." This can be especially true at Carnival, which officially takes place for six days in February or March, beginning the Friday before Ash Wednesday. During this time, the city shuts down and the party vibe becomes palpable. Brazilians often joke that the year only starts after Carnival, so be prepared for work to slow down in the lead-up to and during the celebrations.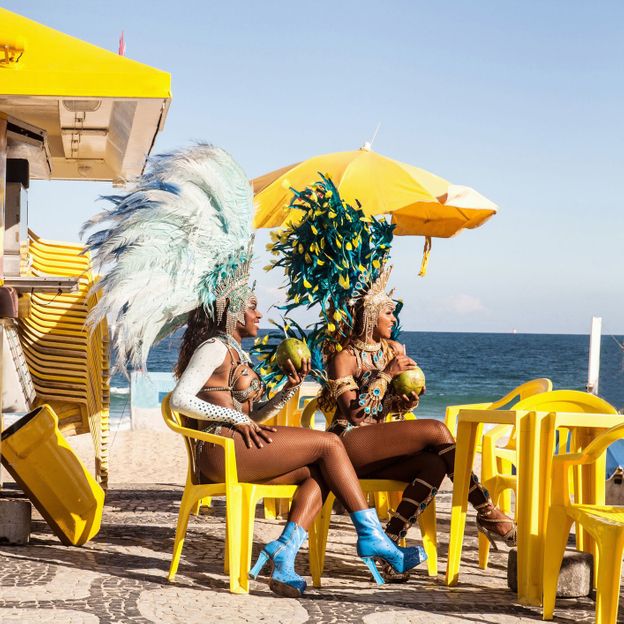 Know before you go
Brazil's reputation for crime can alarm some digital nomads considering making the move to Rio. Most violent crimes occur in favelas and neighbourhoods on the outskirts of the tourist spots. However, vigilance is still required to avoid pickpocketing and muggings. Keeping expensive devices out of sight and taking taxis, especially at night, are advised to mitigate such risks. Anctil named safety as one of the cons to working in Rio but added, "I have had zero issues myself". English isn't widely spoken throughout Rio, although locals tend to be supportive towards Portuguese learners. "Everyone has been very welcoming and patient with me as I learn Portuguese (which has been a challenge!), and I appreciate that so much," said Hollingshead.
It's worth learning some Portuguese basics before going to Rio or doing a Portuguese course upon arriving for longer-term residents.