In 2015, India launched an ambitious plan dubbed the National Smart Cities Mission, aimed at making 100 urban centers more livable and sustainable through innovative and inclusive solutions. Among the 100 cities selected was Jaipur, the northwestern desert capital of Rajasthan. But while the Smart City project concept was aimed at modernizing India, historians argue that Jaipur's "smart" credentials have been ahead of the game for centuries. Now famed for its historic pink buildings, it was the first "planned city" of King Sawai Jai Singh, an astronomer who used planetary positions as his guide when deciding on the orientation and positions of the structures. He moved his kingdom's capital from the nearby village of Amer to Jaipur in 1727.
In the years to follow, Rajasthan's kings continued their patronage of art and architecture – including descendant King Sawai Pratap Singh. He was a builder with an artistic side – Jaipur's old palatial city walls feature numerous examples of his love for art. But nowhere showcases that passion quite like Hawa Mahal, which is not only architecturally stunning but offers lessons in sustainable building. Completed in 1799 and now a UNESCO World Heritage Site, it's today one of India's most recognizable icons and a popular tourist attraction. Indian authorities in charge of the monument say roughly 1 million people visit each year.
A building famed for its back
Past the city's fractal pink walls and the frenzy of the old city market, the Hawa Mahal is an imposing structure, its recurring pyramids rising five floors above the chaos. With a staggering height of 87 feet, dotted with 953 ornate louvered windows, it's a feast for the eyes. But few realize that what you see from the street is essentially the rear of the building. "It is very unusual for a building to be not known for its front, but its back," says Sanjay Sharma, who has been guiding visitors through Hawa Mahal for more than two decades. "(Travelers) marvel at what they see from the main road, pose in front of it for a quintessential Jaipur photograph and move on. Few come inside; the interiors are simple, only curious minds would understand that behind the blushing façade there is much more to it than what meets the eye." According to Dr. Mahendra Khadgawat, director of Rajasthan's State Museum and Archaeology Department, King Sawai Pratap Singh was an ardent devotee of the Hindu deity Krishna and commissioned architect Lal Chand Usta to construct a crown-shaped pavilion that resembled Krishna crown. Hawa Mahal was the result. "The primary purpose of the building was to allow the royal ladies to enjoy everyday street scenes and processions without being seen owing to the purdah system," he says, referring to a social practice in medieval India in which women, particularly from the upper classes, were required to cover themselves and remain secluded from public view.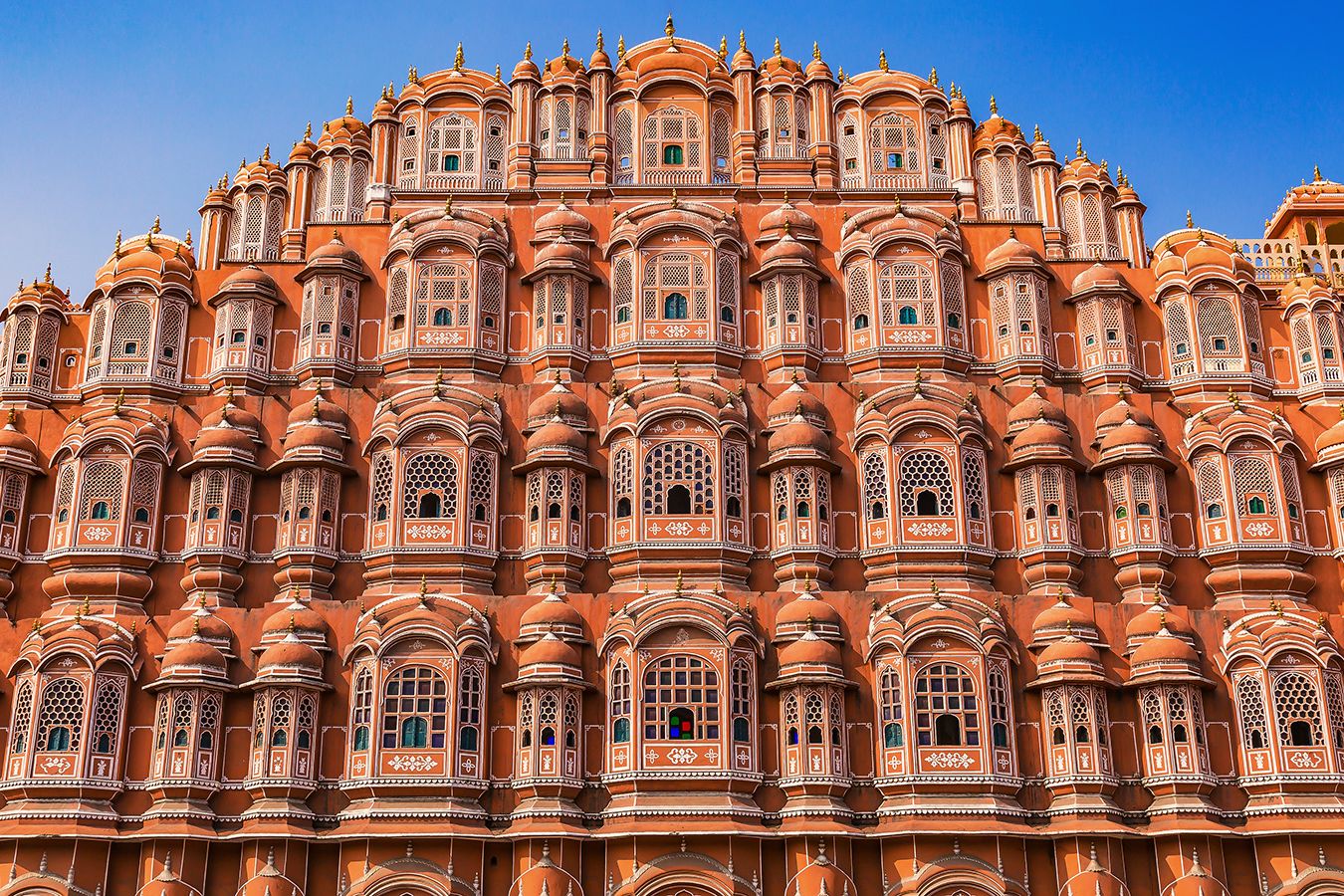 A clever feat of engineering
Architect Kavita Jain, a conservation and heritage specialist, says Hawa Mahal served additional purposes as well. "For the city folks, the rear elevation on the east side facing the roadside is a visual treat; for the king himself, a legendary structure that generations will remember him for; for the royal ladies, a way to be connected to the common people and their celebrations without appearing in public," she says. "But for a keen eye, it is a clever feat of engineering, where aesthetically appealing elements were used to create a microclimate comfortable enough for the queens to enjoy their outing." Today, the building is a prime example of the role climate played in India's historic designs and provides evidence of an advanced understanding of the laws of thermodynamics.
In Hindi, "hawa" means wind, and "mahal" means palace – and the name couldn't be more fitting.
"The orientation of the building is on the east-west axis, aligned with the direction of the natural flow of the wind in this region," says Jaipur-based architect Shyam Thakkar. "The wind enters the palace from the west (through a series of open grounds). It picks up moisture from the water body thoughtfully placed in the courtyard using the principle of convection currents; the hot air rises, and the cool air descends." It doesn't end there. Thakkar says the moisture-laden wind then moves towards the 953 windows (jharokha) and cools the air down thanks to the Venturi effect – air flows through a constricted passage, increasing the wind velocity while dropping the pressure. "Intricate lattices (jaalis) on the windows break up and distribute the air flow evenly to ensure no hotspots; it also controls the direct glare of sunlight," he adds. "Using lime (chuna) as a lattice material is a final flourish. Chuna can regulate temperature inherently."